Sunday, July 3, 2011
Three more blocks done today.
Four more to complete this months.
- Posted using BlogPress from my iPad
Posted by

Butterfly
at 11:05 PM
No comments:

Saturday, July 2, 2011
So of course I had to start experimenting with making the hst with the foundation paper and loved how they turned out.
I started with 2 61/2 inch fabric and the foundation paper, lined them up and sewed along the dashed line:
Then cut along the solid lines:
And then remove the paper and a little iron and here are some 2 1/2 inch hst:
Made more orange and pink hst: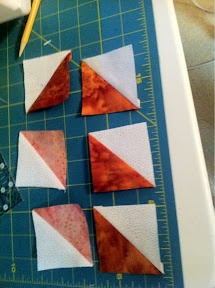 And then assembled them into the first block which is 8 1/2 inched square:
Overall a very productive and enjoyable few hours.
Posted using BlogPress from my iPad
Posted by

Butterfly
at 10:55 PM
1 comment:

So it seems like all I do lately is start projects and here is another one that I am about to start. Eddies had a July 4th sale this weekend and as I had two gift cards I decided to do some shopping. I got a rainbow of 1/2 yards and had great fun picking them out.
Got some nice shades of blue,purple, yellow, orange, pink, green and red and with a nice white and white as the background I am off and running on my another project.
This is a BOM from The Quilt Show and the HST are done with foundation paper which will be a first for me.
Oh and here is what it will eventually look like:
Now I have to decide if tonight I actually start this or continue on with Labyrinth or the Wonky log cabin.
- Posted using BlogPress from my iPad
Posted by

Butterfly
at 7:12 PM
No comments: